Source: DC/WB.
The DC Extended Universe continues to make headlines. If you were fortunate enough, you got to attend their panels at WonderCon, you got to see extended trailers, concept footage, and Q&A's with your favorite stars. But the majority of us have had to turn to Twitter to keep up with the latest developments, or do what I have been doing and watch the Justice League trailer over and over.
And speaking of the Justice League trailer... it has been several weeks and I still can't get enough of it.
Something I noticed was that same weekend, a series of character posters debuted online for each member of the League, sans Superman. You don't have to look closely to see a big, shiny, silver, Bat-signal, on the chest of the film's star superhero. Could this be yet another new Bat-suit?
Source: DC/WB.
Even though I easily could, I will not turn this into a Buzzfeed-esque style article where I rate every single Bat-suit that has ever stepped in front of a camera (Editor's Note: BTAS is best). But one thing I will note is that even though a character's appearance can easily be overshadowed by the actor's performance, getting the costume right is HUGE!!
I don't think that s discussed enough but the main characters in superhero movies, especially ones that have already been introduced in comic book form, have already been created, drawn, everything. It's not like in literature where you have to use your imagination and three different people can have three completely different ideas of what Ned Stark may look like. They might agree on some of the same things like hair color and body type, but the specifics, not so much. So when you think about comics, which are basically pictures telling a story, it makes the need to nail the appearance of the character that much more important. These design staffs who are very eager to "put their own mark" on a character walk a fine line because tampering with iconic images may turn off audience members before they even give what you have done a chance.
Source: DC.
The costume designers at DC have provided a couple examples worth discussing:
Batman - In keeping with The Dark Knight Returns as inspiration the important stuff was all there. A big, bulky Batman, short horns on the top of the mask, and a blue/gray Bat-suit. They met the expectations of the audience.
Doomsday - A rare example of when a lot more could have been done with a character. What we saw in the Death Of Superman saga from the comics was barely close to being replicated on screen.
The Joker (Jared Leto) - Another rare example, but instead of not doing enough, way too much was done. All of the tattoos and flashy clothing was simply overkill. It's almost to the point that you forget that what you are looking at is supposed to be the Joker. Like you are trying too hard to do what others have done with so much less.
Now, think about which one of the above mentioned characters has been the most well received amongst audiences... coincidence?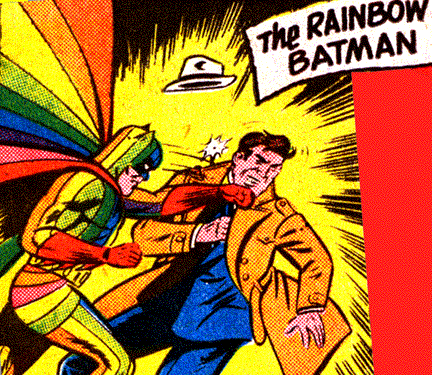 Source: DC.
When I saw the poster of Batman, rocking a brand new silver Bat-signal I expected the internet to scream to the high heavens but what I got was a noticeable lack of tweets from fanboys that would usually take a moment like this to condemn the staff at Warner Brothers for what they had done. Now is the addition is a silver bat-signal the same as tattooing "damaged" across the forehead of one of the most recognizable villains in history? Absolutely not, but you know how the internet is, it loves complaining about anything it can.
If you were to ask me, when it comes to Batman's get-up, there are a couple of items on my "absolutely do not do" list and a silver Bat-signal is not one of them. Do what you want with the color, just do not make any adjustments to the design of the symbol itself. I am a super-fan of what they have done with Affleck's Bat-attire so far. I will even admit to liking his brand new tactical suit, even though he stole those goggles from the Night Owl.
Realistically, I think that the silver bat-suit was something done for that specific poster. The suit was not featured in the ComicCon trailer, the recent trailer, or any other form of marketing I have seen. What do you think about Batman's wardrobe update? Is there anything you would like to see in the future? Let us know in the comments!
Are you excited for Justice League?! Let Nerdbot know in the comments!
#AdamChmielewski #Movies #Batman #justiceLeagueMovie #JusticeLeague #DCsLegendofTomorrow #DCEU #DCMU #DCcomics